Learn Every Day

Visit www.openmentor.net for recorded training sessions. We do online and classroom training programs.

We at Softsmith give clear road maps to all the participants; both fresher and experienced.


Following is the road map for fresher.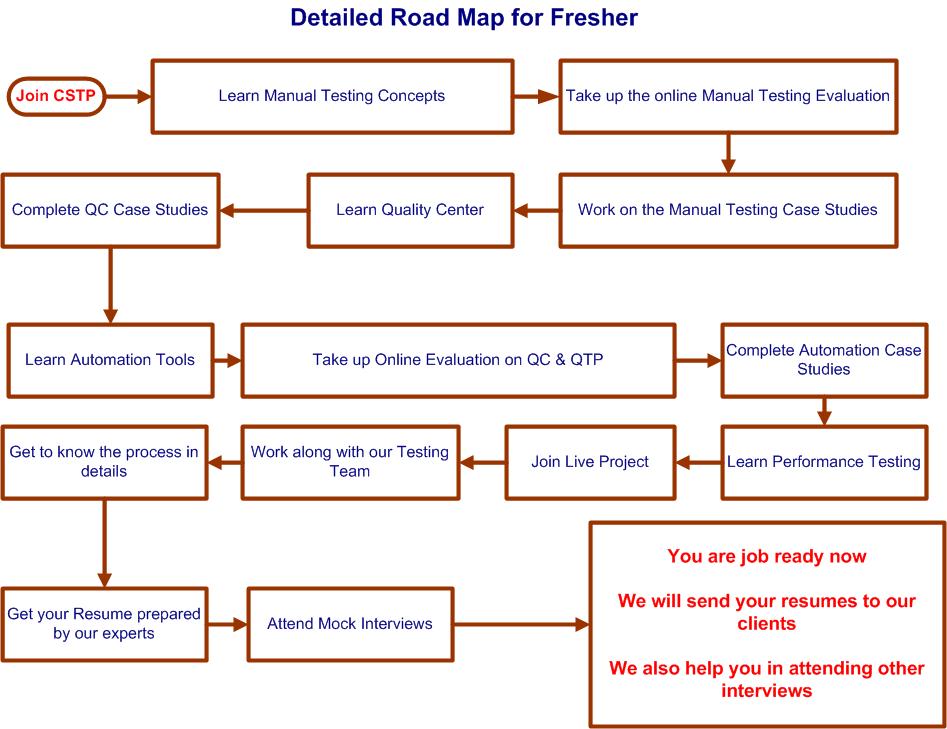 For Fresher or students, who look for the first job, Softsmith assures making students job ready. This for those, who undergo the testing course and attend to our unique concept called Live project. Those who have knowledge but lags on practical exposure can also attend to live project directly after our evaluvation
Make student to understand the domain and complexity of testing.
Complete knowledge on how in reality the testing is carried out in manual, automation and performance testing.
Challenges faced in writing the complex test case and scripting for that test case.
Awareness of possible logical solutions to make the testing effective.
Enable students to project themselves effectively on work carried out by them, problem faced and method adopted to solve the problem.


How we do it?

Management will attend to the individual, who has scored less than acceptable marks and will counsel the student to understand the requirement of the industry and expectation of industry from student. These students will be given additional exercises and case studies to bring them to the level acceptable by the industry.

Softsmith support them to get their profile updated with the skills they have learnt through the live project and other activities that Softsmith makes them to participate during the course.

Most of the projects Softsmith provides will be of kind, which makes the students learn the needed technical knowledge, which industry expects from the senior people.

Softsmith will take initiative to contact the HR of the companies and forward the successful profiles with their test marks and give introduction letter on that student about their performance and attitude to assist the students to get the interview calls.

If you have got prior experience, here is the Road Map for you.


Learn Automation tools.
Complete the Case studies.
Join the live project and work with our test automation team.
Access out automation test plans and Framework Details.
Create test automation Scripts for the module assigned to you. Here you will know the real problems in Automation.
Write user defined methods and enhance our existing Framework.
Get your profile Updated by our Experts.
Get Letter from our organization that you have worked as an associate for the automation project. This will add value to your profile.
Do you need more info?

From 9am to 6pm IST, Monday thru Saturday, you can do live chat with our support team.

If our support team is offline, click on the Live Support button to leave an email message. Our team will respond back to you.