Learn thru webinars

The whole world can learn for free.

Learn, access our presentations, access our elearning content and take online exams.
CXOs See Reports

The CXOs see reports and charts. Reports always get top management attention.

The success of any software application, depends on how easily we can retrieve information out of that application.

Mid level to senior level management always have the ever growing needs of more and more reports. But most of their internal IT resources are tied up with enhancements and issue fixing. Hence management does not get enough reports, when they need it.

Users run frantic to create one report, in the same format that the boss expects. Data is there in the system, but scattered in ten different places.

Irrespective of whether your system needs one report or one hundred reports, we can build the same and deliver.
We build Charts and Dashboards for you
Presenting a pictorial view will be easier to understand and make others to understand as well. From simple task tracking to hi-fi financial and sales details, management looks for different types of charts.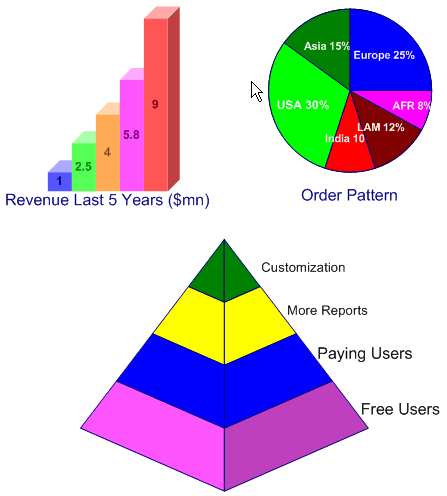 We build Reports for you
Specific reports with drill down features, will make life simpler for the management and users. Accurate real time reports in a single click, will help you to track every aspect better. We build regular reports and drill down reports and integrate with your application.

1. We tailor make the reports for you as per your needs.
2. We provide you a reporting engine for ad-hoc reports.
3. Configure standard and customized header, footer, stylesheets etc.
4. Configure number, date settings to reflect in all reports.
5. Choose your own report writing tools such as Telerik, MS SSRS, Data Dynamics, Crystal reports etc.

We build Alerts for you
Getting email or SMS alert from a system is as crucial as we feed data to the system. When an event or data alerts the management, it reduces the reaction time and helps to think proactive. We build configurable email and SMS alerts.

1. Alerts can be configured for the trigger events or data
2. Customize the email or SMS text that must be sent as alert
3. Configure who must receive the alerts
4. Configure the alert frequency
5. Activate or deactivate the alert as you need.

Case Study

Packetized data transmission

Softsmith has provided a customized solution to address
packetization of data and transmit the same in a low bandwidth scenario to its customers

Download PDF