Learn thru webinars

The whole world can learn for free.

Learn, access our presentations, access our elearning content and take online exams.

QAMonitor is an all-inclusive tracking software, that is used for task, QA and help desk tracking. These are the three painful areas for any organization. By not tracking these vital areas, companies spend a lot of money on rework and issue fixes.
QAMonitor provides the following critical benefits to you
High visibility to management
Extremely simple and light-weight screens for end users
Variety of metrics charts and alerts
High flexibility to suit your templates and workflow
You give us your templates by email. We will configure the app, make it ready and give you login access within 24 hours
Create Your Project - It is Free
What is the cost involved?
It is FREE; no need to procure any licenses
It is already hosted on cloud; hence no need to install anything
It is over the web; you can access it from anywhere, anytime
No need to spend on any hardware, cooling, power backup
No need for a system admin to monitor your servers
By providing all these to you, we save anywhere between $5000 to $10000 per year, for you
All features of the product are absolutely FREE
About 100+ reports and pre-built charts are FREE
Usage is FREE forever
Email SUPPORT within 5 business days is also FREE
Product Functional Blocks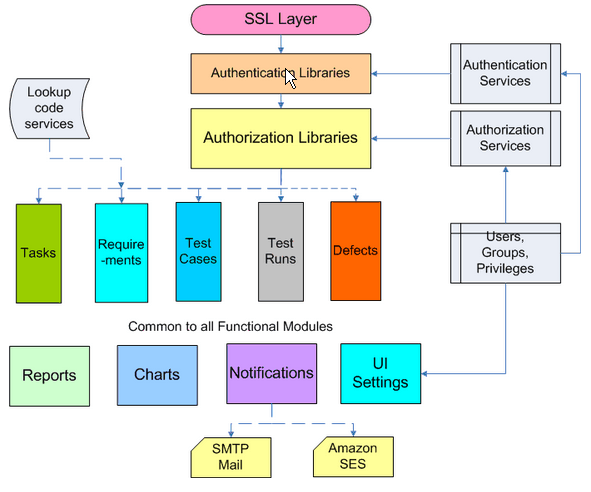 Who must use QAMonitor
If you have a team and you want to track their tasks accurately, then you need this
If you want to track all bugs or issues or defects in your project, QAMonitor is the best choice
If you do customer service or support and want to track help desk cases or tickets, QAMonitor can assist you
If you do software or hardware testing, you can feel the difference when you embrace QAMonitor
What are our differentiators
The tools that provide end to end test management, are not affordable to SMEs. We make a big difference there
Most of the test management tools do not have task tracker in it
Our roadmap is to help the overall organization, with HR and CRM as well. See Roadmap section in this page
What is charged
If you want this product to be installed on your own servers, there is a fee, which is one-tenth of leading tools
If you need a specific report or chart to suit your needs, we build it for a small fee
Email support within 1 business day and online text chat support is available for a small fee
Product Roadmap
Q2 - 2011 - Email workflow integration, A bundle of new reports based on your valuable feedback
Q2 - 2011 - CRM functions - Contacts, Accounts, Opportunities, Quotes, Contacts, Product lists, Campaigns
Q3 - 2011 - HR functions - Employee details, Leave requests, Travel requests, Reimbursement requests, skillset details, Interview tracking
Full Feature List

See all features of QAMonitor

This list will give all the features that are available with our product.
These features are built based on industry best practices.

Click Here for the list

Bug Chart

>> Online User Guide
>> QAMonitor Blog
>> QAMonitor Forum