Just One Test

Just one reality load test can bring out so many performance issues from your application.

Webservices and Service Oriented Architecture have become the normal trend in designing applications.

Webservices are services that run on the webserver; they take input in XML format and send response in XML format.

Every application will call a set of webservcies, in a specific sequence, to satisfy a business transaction.

Unless and until each webservice is robust and scalable, just one slow webservice can kill the performance of the whole system.

We write custom load test scripts to create huge load on every webservice of your application.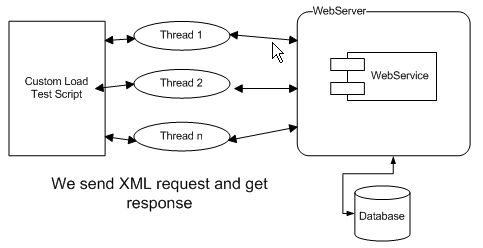 Details
| | |
| --- | --- |
| | Each webservice can be load tested independently. |
| | |
| | Our framework can mimic 1000s of concurrent requests to your webservice. |
| | |
| | There is no tool cost involved. We have our own webservice load test framework. |
| | |
| | This load can be generated from inside firewall as well as from outside firewall. |
| | |
Case Study

Online Exam Reality Load

See a sample reality load test report.

This kind of detailed report will be provided for every load testing engagement.

Download PPT